Lowell Five Bank employees selected AgeSpan, formerly known as Elder Services of the Merrimack Valley and North Shore, to receive the $10,600 Q2 2022 Lowell Five Employee Charitable Giving (ECGC) Award. Lowell Five's employees each year choose four charitable organizations from a list of employee-elected nominees to receive a Quarterly Employee Charitable Giving Award. The ECGC Award is comprised of the total employee-elected charitable payroll contribution for the financial quarter matched 100% by Lowell Five Bank.
AgeSpan is a private non-profit agency focused on empowering people to maintain their highest levels of independence, health, and safety as they age. They connect people of all ages and abilities and their caregivers with impartial information, quality services, and advocacy to help them lead fulfilling lives in the community.
"Funding from the Lowell Five Employee Charitable Giving and the matching funds from the Lowell Five Foundation will continue to support our mission of meeting the individual needs of older adults who need help to stay independent at home. For over 27 years, the DiStefano Family Care Fund has been a lifeline for hundreds of elders and families who need emergency aid or help with a unique situation. Today, with the rising costs of necessities, this funding to help replenish the DiStefano Fund becomes a vital resource to our staff when those calls for extra food, fuel, and medication are received." states Joan Hatem-Roy, CEO, AgeSpan.
Visit https://agespan.org/support-us/ to support AgeSpan.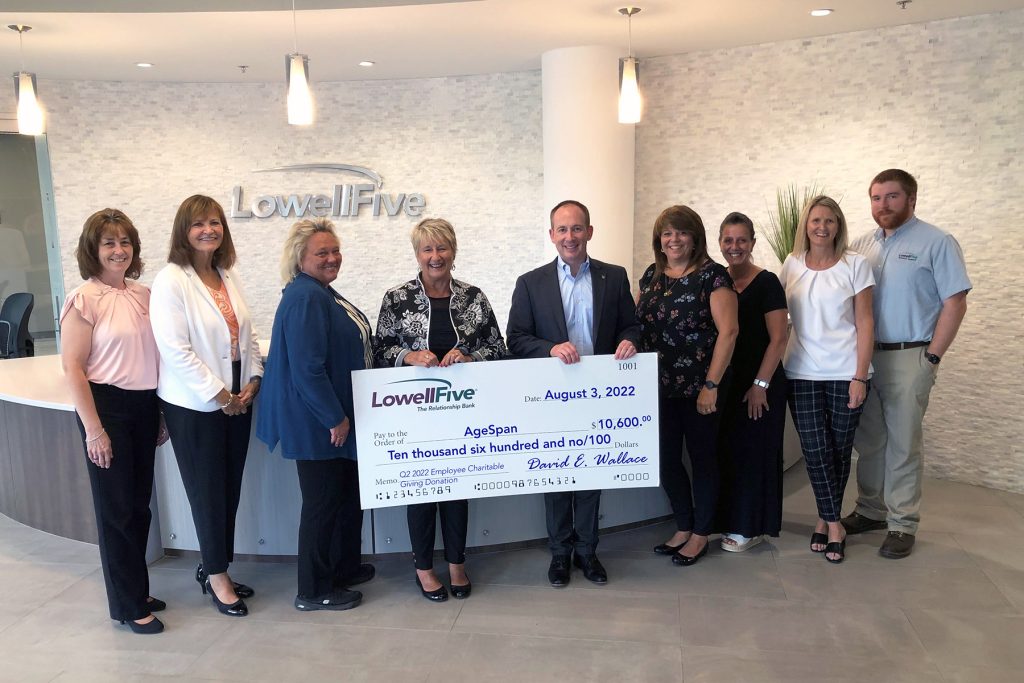 Appearing in the photo are representatives from AgeSpan and the Lowell Five Employee Charitable Giving Committee:  (L to R) Sandra Marsden – Closing Specialist, Maura Sweeney – EVP/Chief Human Resources Officer, Robin McConnell – Mortgage Officer, Bonnie Sisson – Community Relations-Fundraising Coordinator, AgeSpan, Jay Stephens – Lowell Five Bank President /CFO/Treasurer, Denise Witkowski – Loan Servicing Specialist, Frances DelloIacono – Loan Servicing Specialist, Amy Fernandez – Financial Services Representative, Christopher St. Croix – AVP Network Systems
August 9, 2022