Get to know your Lowell Five Enhanced Debit Card


Use your Lowell Five Debit Card to withdraw cash at ATMs where you see the Mastercard®, Cirrus®, Plus® and NYCE® symbols.
Securely make purchases online, over the phone, and in stores, plus add it to your Digital Wallet for contactless purchases.
Chip card technology uses cryptography to help protect your transactions against fraud.
With

Manage My Card

Controls, you can turn your card off and on instantly.
Receive Push Notifications on your mobile phone to stay on top of your debit card transactions. Manage Push Notifications by logging into Lowell Five's Mobile Banking App and selecting the "Manage Alerts" option.
Your Enhanced Debit Card is powered by Mastercard®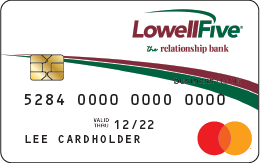 Your Lowell Five Debit Card can be used to make point-of-sale purchases in one of two ways – either as a DEBIT transaction or as a CREDIT transaction.
Mastercard ID Theft Protection comes with your Mastercard at no cost. To activate your ID Theft Protection benefits, visit mastercardus.idprotectiononline.com and enter your card number to start the registration process.1
The benefit:
Monitors your credit file for changes that could indicate fraud, such as new credit inquiries, an address change, or a new account opened in your name.
Sends alert notifications whenever suspicious activity is detected so that you can take immediate action to minimize potential damage. The tool monitors suspicious activity related to the personal information you choose to track such as your name, address, email address, social security number, date of birth, debit/credit card numbers, or other sensitive data.
Provides ID Theft Resolution with white-glove service, assigning a resolution specialist to you when you require assistance resolving issues related to identity theft.
Arrange for a personal, dedicated meet-and-greet agent to escort you through the airport on departure, arrival, or any connecting flights, 24/7/365, at over 450 destinations worldwide.
Doubles the time period and duplicates the coverage of the original manufacturer's or U.S. store brand warranty for a maximum of one year.3
Provides up to $250 per product, if you become dissatisfied with the product within 60 days of purchase and the merchant will not accept a return.4
---
Using Your Enhanced Debit Card: DEBIT transaction vs. CREDIT transaction
DEBIT

You will be asked to enter your PIN to proceed with a debit payment.
Funds for the purchase will be taken directly from your Lowell Five account.

CREDIT

No PIN* is required for a credit-based debit transaction. However, you may be asked to sign for your purchase.
* To qualify for the Mastercard benefits mentioned in the chart above, when asked for your PIN at the payment terminal, hit the "Enter" or "Green" button instead. You may be asked to sign for the purchase.
Credit-based debit transactions are submitted by the merchant to Mastercard before being deducted from your Lowell Five account. There may be a delay before the payment posts to your Lowell Five account.
* When you process your debit card purchase as credit, it is run through the Mastercard network before the funds leave your Lowell Five account.  It does not mean that you are purchasing with credit.
® Mastercard is a registered trademark of Mastercard International Incorporated.
---
Instant Debit Card Replacement
Need your card today? We can print a debit card for you to pick up at your branch location of choice the same day or the next business day.  Call our Client Service Center at  978.452.1300
---
Report Lost/Stolen Debit Card or Suspicious Activity on Your Account
Call us at 978.452.1300 24 hours a day.