The Center for Hope and Healing in Lowell, MA, was recently awarded the Lowell Five Bank $10,100 Employee Charitable Giving Committee (ECGC) Award for Q3 2022. Lowell Five's employees each year choose four charitable organizations from a list of employee-elected nominees to receive a Quarterly Employee Charitable Giving Award. The ECGC Award is comprised of the total employee-elected charitable payroll contribution for the financial quarter matched 100% by Lowell Five Bank.
The Center for Hope and Healing was founded in 1985 as the Rape Crisis Center of Greater Lowell. Along with a name change in 2013, The Center for Hope and Healing expanded its services to assist survivors of all identities, expressions, and life experiences. The non-profit organization also developed relationships with more communities in the Merrimack Valley and is the only sexual assault program serving Lowell and 13 surrounding communities. The Center provides individual and group counseling, legal and medical advocacy, resources and referrals when needed, and a 24-hour crisis hotline. All services are free and confidential.
"In addition to the financial award, the Lowell Five Employee Charitable Giving Committee also held a raffle and raised $635 to purchase back-to-school supplies and necessities for children associated with The Center," explained Maria Garay-Dodd.  Dodd is the Manager of Lowell Five's Wilmington, MA branch and a Center for Hope and Healing Board Member.
Representatives from Lowell Five's Employee Charitable Giving Committee and their Senior Management Team presented the award to The Center's Executive Director, Isa Woldeguiorguis, M.Ed., during a private tour of their newly renovated Hurd Street location.
"One week in our new building, and what a lovely gift of support from our friends at Lowell Five Bank," she commented.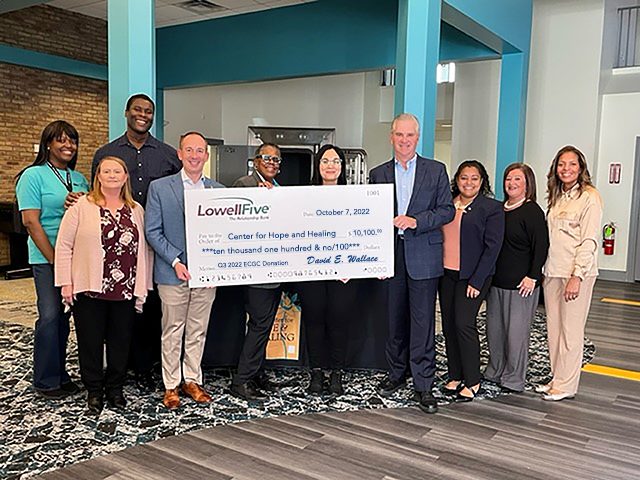 Appearing in the photo: (L to R) Shirley Profit – Director of Program Operations/CHH, Sandra Gonzalez – Lowell Five ECGC, Arnold Johnson – Development Coordinator/CHH, Jay Stephens – Lowell Five Bank President/Treasurer, Isa M. Woldeguiorguis, M.Ed. – Executive Director/CHH, Cathy Mercado – CHH Board Member, David E. Wallace – Chief Executive Officer /Lowell Five Bank, Yanelly Cruz – Lowell Five ECGC, Jenna Guilbeault – Lowell Five ECGC, and Maria Garay-Dodd – Lowell Five ECGC and CHH Board Member
October 18, 2022