Tewksbury, MA – Lowell Five Bank employees have chosen The Plus Company of Nashua, NH to receive their Q3 2021 Lowell Five Employee Charitable Giving (ECGC) Award.  The Plus Company is a nonprofit organization with offices in Nashua, NH, Lawrence, MA, and Tewksbury, MA, that serves over 400 adults with disabilities.  Their mission is to empower adults with intellectual disabilities to maximize their independence to help each individual become a vital, productive member of their community.
Each year, Lowell Five's employees choose four charitable organizations from a list of employee-elected nominees to receive a Quarterly Employee Charitable Giving Award. The Q2 2021 ECGC Award of $9,000 is comprised of the total employee-elected charitable payroll contribution for the financial quarter matched 100% by Lowell Five Bank.  Lowell Five employees also held a separate raffle for The Plus Company and raised an additional $800.
Members of the Bank's Employee Charitable Giving Committee hosted representatives from The Plus Company at their Tewksbury, MA Corporate Headquarters on October 19, 2021. "This generous donation will go directly towards providing the support and services for individuals with disabilities that will allow them to become more independent, productive members of the community," said Kim Shottes, Executive Director of The Plus Company.  "Lowell Five has been and continues to be a strong supporter of The PLUS Company and our clients, she concluded.
Visit https://pluscompany.org/donate-now/ to donate to The Plus Company.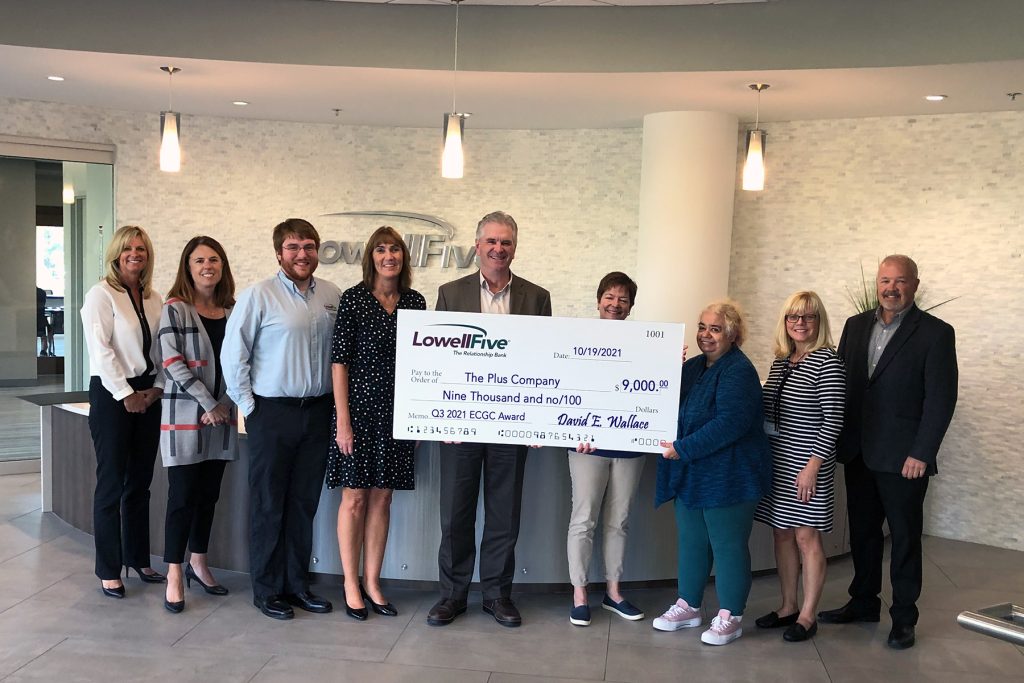 October 25, 2021