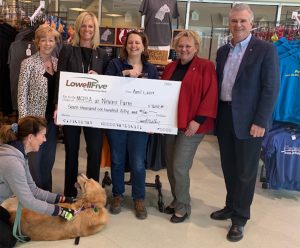 Tewksbury, MA – The Lowell Five Employee Charitable Giving Committee (ECGC) is proud to announce that their First Quarter 2019 Lowell Five Charitable Giving Award recipient is the Massachusetts Society for the Prevention of Cruelty to Animals at Nevins Farm in Methuen. Lowell Five employees chose Nevins Farm in support of the MSPCA's mission, as stated on their website: "to protect animals, relieve their suffering, advance their health and welfare, prevent cruelty, and work for a just and compassionate society." Nevins Farm includes both family animal and equine & farm animal care and adoption services. Founded in 1868, Nevins Farm has the distinction of being the second oldest humane society in the United States.
Recently, a group of representatives from the Employee Charitable Giving Committee, including Lowell Five President and CEO, David Wallace, visited Nevins Farm to present Heather Robertson, Director of Development, with their award: a check for $7,650. The award represents the total employee elected charitable payroll contribution for the first quarter of 2019, equally matched by Lowell Five Bank. In addition to the check, members of the ECGC also presented Nevins Farm with items collected from a pet food drive and the proceeds of a bank-wide raffle, held to raise funds for gift cards to help the farm purchase perishable food items.
Heather Robertson, Director of Development at Nevins Farm said, "We are overwhelmed by the generosity of our friends from Lowell Five. The MSPCA is a private organization and receives no state, federal or local funding, so we really rely on help from our friends and community to make our programs and services possible. The goods and funds that we received from Lowell Five will be a tremendous help to our programs – and the food and supplies will help keep the bellies full for lots of animals in our communities that need our support. Our staff, volunteers and animals are incredibly lucky to have Lowell Five in our corner!"
Each year, Lowell Five's employees choose four charitable organizations from a list of employee nominated organizations to be the recipients of a Quarterly Charitable Giving Award. The gift consists of voluntary employee donations matched by the Bank. Earlier this year, the Lowell Five Bank Employee Charitable Giving Committee announced the four local charitable organizations chosen to be recipients of the Bank's 2019 Quarterly Charitable Giving Awards: Massachusetts Society for the Prevention of Cruelty to Animals (MSPCA) at Nevins Farm, Merrimack Valley Hospice, The Wish Project, and Boys and Girls Club of Lowell.
###