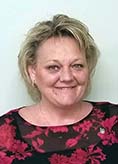 Tewksbury, MA – David E. Wallace, President, and Chief Executive Officer of Lowell Five Bank is pleased to announce that Haverhill Branch Manager and Assistant Vice President, Robin McConnell has been selected to receive the Bank's March 2019 Employee Excellence Award – Make it Matter. The Make it Matter program recognizes excellence in performance which inspires others by way of example.
During Robin's 13 years with Lowell Five Bank, she has held positions as Branch Supervisor of the Bank's former University Avenue Branch and as Assistant Manager at both the Wilmington and Haverhill branches. In May of 2016, Robin was promoted to her current position of Branch Manager.
Robin is an active Member of the Board of Directors for the Greater Haverhill Chamber of Commerce.