A recent donation made by Lowell Five Bank to the Town of Tewksbury Fire Department allowed Fire Chief Joseph W. Kearns to purchase vital equipment to protect and assist first-responders in their service to town residents.
Nine new BW Monitor single gas CO meters will alert first responders to the dangerous presence of carbon monoxide upon entering a building, thus ensuring their safety. These monitors are easily attached to the department's medical bags.
In addition, Tewksbury Firefighters now have the technology to assist them in finding fire victims in an emergency. Two handheld Seek Reveal FirePRO Thermal Cameras will now help firefighters see through smoke to locate victims and navigate safely through burning buildings.
"We've made a concerted effort to provide real and tangible support to local non-profits and first responders whose services we rely on so heavily during emergencies and in times of need," said Lowell Five Chief Executive Officer David E. Wallace. "These Frontline Heroes work tirelessly to ensure the safety and vitality of our communities."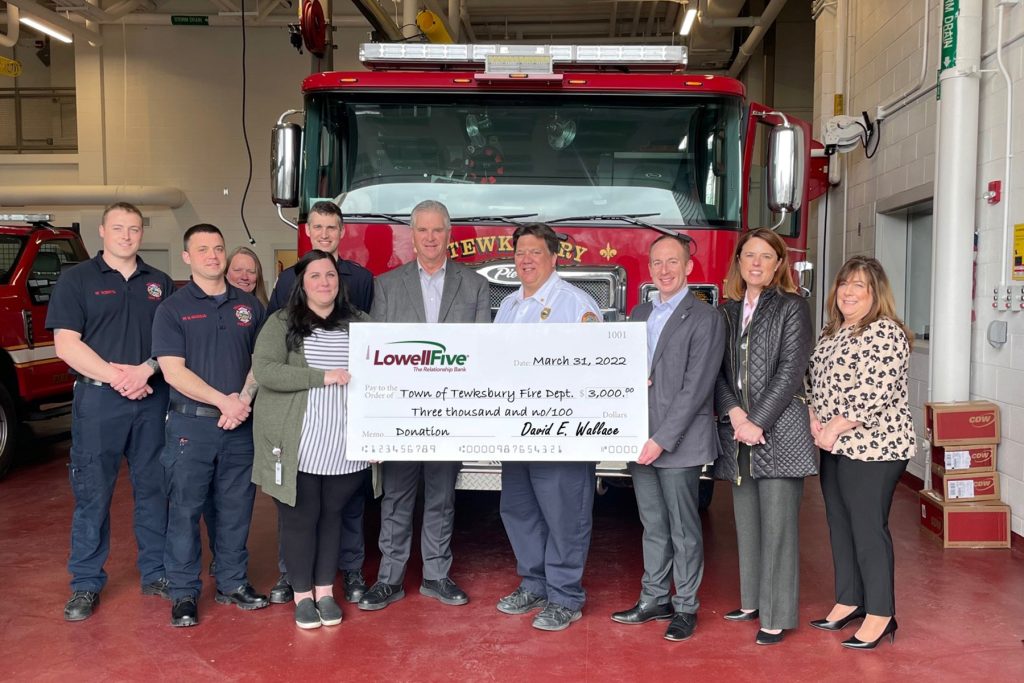 Those attending the March 31st check presentation at the Town of Tewksbury's new Center Fire Station were: (Left to Right) FF Roberts, FF M. Giasullo, Lt. Merril, Jeanne Martin, FF McNamara, David E. Wallace – Lowell Five CEO, Joseph W. Kearns – Fire Chief, Jay Stephens – Lowell Five President/CFO & Treasurer, Alison Kalman – Lowell Five EVP/Admin. & Governance, and Patty Lelos – Lowell Five Tewksbury Branch Manager.
March 31, 2022