In 2017, 14-year-old Hannah Finn created the One Wish Project to make birthday cakes for children experiencing homelessness. Six years later, One Wish Project is a volunteer-based non-profit organization dedicated to making birthdays sweeter for children living in homeless shelters. The Lowell Five Bank Employee Charitable Giving Committee (ECGC) selected One Wish to receive its $10,000.00 First Quarter 2023 Award.
Based in Andover, Massachusetts, One Wish works with area shelters to provide a birthday celebration complete with a customized cake and presents to a child living in a shelter or foster care. "We are beyond grateful to everyone at Lowell Five Bank for their tremendous support and belief in our mission," commented Hannah at the June 5, 2023, check presentation held at Lowell Five Bank headquarters in Tewksbury, MA.
Lowell Five employee, Iris McGetrick nominated One Wish for consideration as a recipient of the Employee Charitable Giving Award. "I love celebrating the birthdays of my family and friends," she explained. "I nominated Hannah and her mother, Claudia Mintz, to support the joy One Wish brings to children and teens who perhaps may be forgotten on their special day."
Each year, Lowell Five's employees choose four charitable organizations from a list of employee-elected nominees to receive a Quarterly Employee Charitable Giving Award. The ECGC Award is comprised of the total employee-elected charitable payroll contribution for the financial quarter matched 100% by Lowell Five Bank.
To find out how you can support or get involved in One Wish Project's mission, visit https://www.onewishproject.us/get-involved.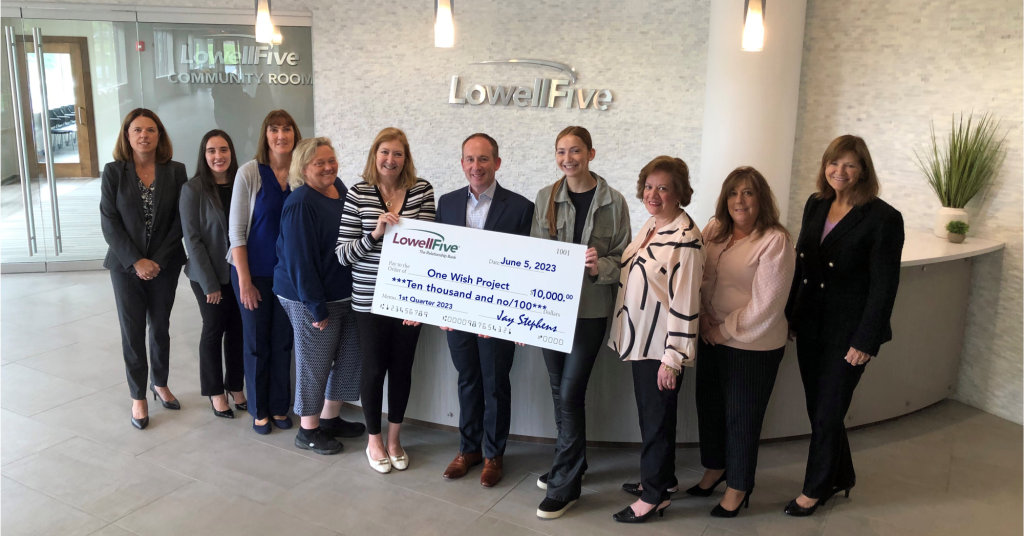 Appearing in photo: (L to R): Alison Kalman – Lowell Five EVP, Chief Banking Officer, Ashley Bettencourt – ECGC Committee Member, Joanne Pollard – ECGC Committee Member, Robin McConnell – ECGC Committee Member, Claudia Mintz – One Wish Project, Jay Stephens – Lowell Five President & CEO, Hannah Finn – One Wish Project, Iris McGetrick – ECGC Committee Member, Patty Lelos – ECGC Committee Member and Maura Sweeney – Lowell Five SVP, Chief Human Resources Officer.
June 12, 2023