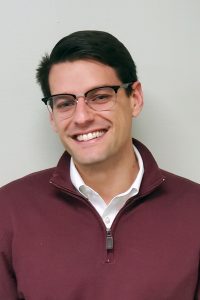 Tewksbury, MA – David E. Wallace, President and Chief Executive Officer of Lowell Five Bank, is pleased to announce that Matthew Robbins was selected to receive the Bank's November 2021 Employee Excellence Award. Each month, Lowell Five recognizes one employee who has demonstrated excellence in their commitment to Lowell Five customers and employees with the Make It Matter Award.  Matt receives his award for his exemplary commitment to the Bank and its customers.
Lowell Five welcomed Matt to their Credit Team in 2017 as a Senior Credit Analyst. In 2019, Lowell Five promoted him to Assistant Vice President, Senior Credit Analyst. Matt earned his undergraduate degree in Accounting from Saint Anselm College and his Certified Public Accountant designation and a Master of Business Administration from Nichols College.
Originally from Holden, MA, Matt now resides in North Chelmsford.
December 7, 2021