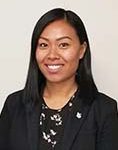 Tewksbury, MA – David E. Wallace, President and Chief Executive Officer of Lowell Five Bank, is pleased to announce that Sarath Sek, Business Banking Administrator has been selected to receive the Bank's July 2019 Employee Excellence Award.  Each month Lowell Five recognizes an individual employee who has a stand-out performance which inspires others by way of example with the Make it Matter Award.
Sarath has been with Lowell Five Bank for almost 19 years, having started as a bank teller.  She held the position of Check Clearing Specialist in the Bank's Account Servicing Department before accepting the position of Business Banking Administrator on the Cash Management Team earlier this year.
A graduate of Middlesex Community College where she earned an Associate of Science Degree in Business Administration, Sarath also received an Accounting Certificate from the Center for Financial Training.  She is currently pursuing a Bachelors Degree in Business Administration at Southern New Hampshire University.
Sarath is a proud volunteer and supporter of the Boston Triathlon which supports Boston Medical Center.