Each year, Lowell Five Bank employees choose four charitable organizations from a list of employee-elected nominees to receive a Quarterly Employee Charitable Giving Award. The ECGC Award is comprised of the total employee-elected charitable payroll contribution for the financial quarter matched 100% by Lowell Five Bank. Table of Plenty of Chelmsford, MA, was recently awarded the Lowell Five Bank $10,100 Employee Charitable Giving Committee (ECGC) Award for Q4 2022.
Table of Plenty is a non-profit organization established in 2010 by groups of volunteers whose goal is to alleviate hunger and social isolation for those in need by sharing community at a weekly meal. Eight groups take turns planning, preparing, serving, and clearing a weekly meal for needy individuals and families at the Chelmsford Senior Center.
In addition to the financial award, Lowell Five Employee Charitable Giving Committee members also volunteered as servers at a dinner prepared by a group led by Linda Chemaly of Chelmsford, MA. Charitable Giving Committee Member and Commercial Portfolio Officer Christopher Johnson was one of the volunteers.
"Not only is each guest given a warm meal, but they have the opportunity to socialize with other dinner guests and the service team members," Chris commented. "It's a warm, welcoming environment, and the feeling of community and camaraderie was infectious. You can tell how much the meal means to everyone involved."
Representatives from Table of Plenty visited Lowell Five Bank Headquarters in Tewksbury on January 1, 2023, to receive their Employee Charitable Giving Award.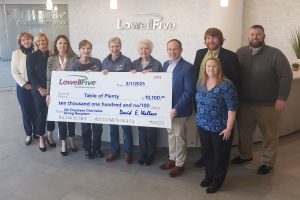 Appearing in the photo: (L to R) Trish O'Donnell – Lowell Five Bank, Cheryl Popp – Lowell Five Bank, Alison Kalman – Lowell Five Bank, Mary Fedele – Board Member and Volunteer Coordinator / Table of Plenty, Mary Moriarty – Executive Director / Table of Plenty, Debbie Kendrick – Treasurer / Table of Plenty, Jay Stephens – President / Lowell Five Bank, Christopher St. Croix – Lowell Five Bank, Sandy Gonzalez – Lowell Five Bank, and Christopher Johnson – Lowell Five Bank