For the sixth consecutive year, Lowell Five Bank is the exclusive sponsor of the North Andover Farmers Market (NAFM.) Since 2017, when Lowell Five Bank provided the seed money for the North Andover Merchants Association to establish the Town of North Andover's first-ever farmers market, the Bank has been one of their staunchest supporters.
On June 9, 2022, the Bank presented representatives from the market with a $15,000 donation. These funds will be used to promote and advertise the market and purchase equipment and supplies to support the weekly market.
"We are so grateful to have Lowell Five as our exclusive sponsor once again this year. With their support, we have kept the market going and growing despite the challenges of the past couple of years," said Margie Rothschild, NAFM Market Manager. "Lowell Five's sponsorship has been instrumental in our ability to provide locally-grown and sourced produce, seafood, baked goods, and other products to our community. They have also enabled us to expand the market this year to include additional vendors and food trucks. They are so committed to the farmers market and to this neighborhood!"
The North Andover Farmers Market will operate each Sunday from 10 AM to 1 PM beginning June 19 through October 2 at the intersection of First and Main Streets in downtown North Andover.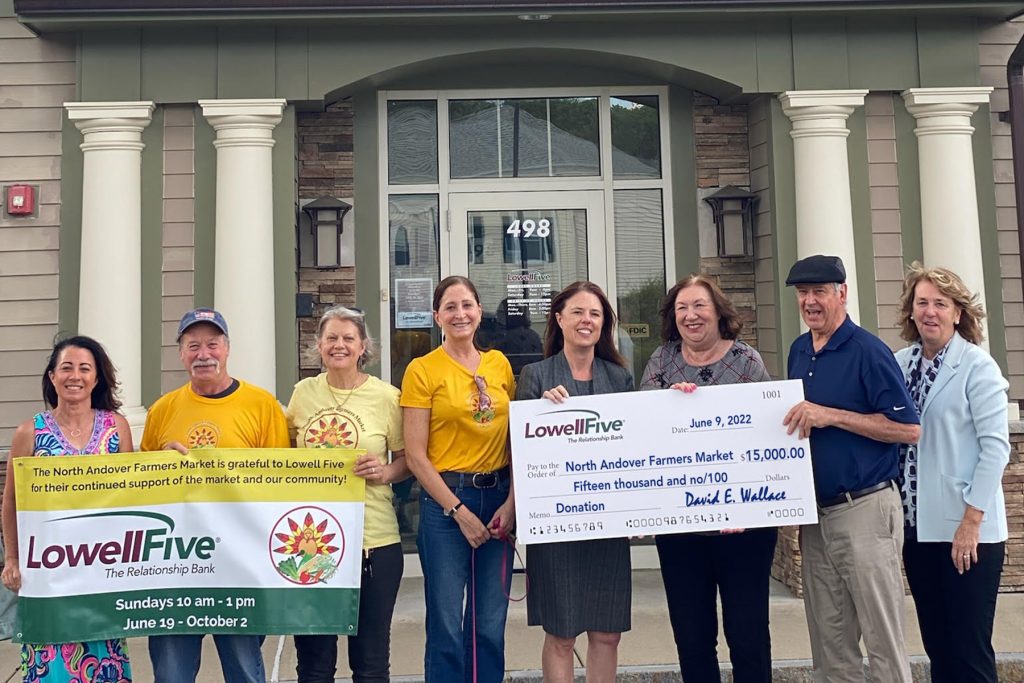 (L to R): Christy Martin – NAFM, Tim Tschirhart – NAFM, Chris Allen – NAFM, Margie Rothschild – NAFM, Alison Kalman – Executive Vice President/Lowell Five Bank, Linda Firth – AVP North Andover Branch Manager, Larry Allen – NAFM, and Trish O'Donnell – VP Marketing Lowell Five Bank.
June 21, 2022