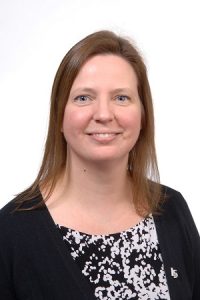 Tewksbury, MA – David E. Wallace, President and Chief Executive Officer of Lowell Five Bank, is pleased to announce that Jillian Daneau, Commercial Loan Portfolio Officer, was selected to receive the Bank's April 2020 Employee Excellence Award.  Each month Lowell Five recognizes an individual, in appreciation of their commitment to Lowell Five's customers and employees, with the Make it Matter Award.
Jillian receives her Make it Matter Award in recognition of her efforts on behalf of Lowell Five business customers looking to procure Small Business Association Payroll Protection Program Loans.
Jillian began her career with Lowell Five Bank in 1997 and worked in Retail Banking for eight years, starting as a Teller and moving up to Assistant Branch Manager.  In October 2005, she joined the Credit Department.  Two years ago, Jillian accepted her current position as Commercial Loan Portfolio Officer.
 May 13, 2020