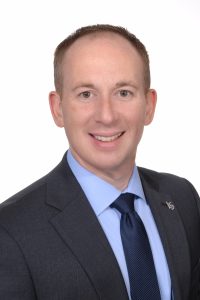 Tewksbury, MA – At their recent annual meeting, Lowell Five Board of Directors appointed Jason K. Stephens, CPA to President, in addition to his role as Chief Financial Officer and Treasurer of the Bank, its parent company, Lowell Five Bancorp, MHC, and its subsidiaries.  As President, Mr. Stephens' responsibilities expand to include establishing short-term and long-term goals, plans, and strategies and assuring exceptional customer experiences and service across all channels.
"I am extremely pleased to announce Jay's promotion to President of the Bank," said Chief Executive Officer David E. Wallace.  "Jay has been instrumental in the Bank's significant growth, has been an exceptional leader with his oversight of a myriad of functions and managing numerous projects, and will further the Bank's progress to achieving new levels of success."
Since joining the Bank in 2014 as Senior Vice President, Chief Financial Officer, and Treasurer, Mr. Stephens has been responsible for financial reporting, budgeting, corporate controls, and risk management.  He was promoted to Executive Vice President in 2018 and oversees informational technology and other operational functions.  In addition to his responsibilities at the Bank, Stephens is a Board Member and Investment Committee Chair of the Greater Lowell Community Foundation, Board Member, and Treasurer of the Northern Essex Community College Foundation.
"I am honored and excited to be chosen by the Board of Directors to lead Lowell Five Bank as President," commented Mr. Stephens.  "In my new role, I look forward to working with the Executive Management Team and our talented employees to further the Bank's mission."
Before joining Lowell Five Bank, Stephens was an audit manager for RSM LLP and a corporate controller at another financial institution.  He received his Bachelor of Business Administration from the University of Massachusetts at Amherst.
March 15, 2022