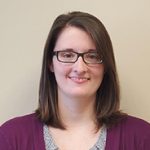 Tewksbury, MA – David E. Wallace, President and Chief Executive Officer of Lowell Five Bank, is pleased to announce that Ashley St. Croix, Assistant Branch Manager – Tewksbury, was chosen to receive the Bank's October 2020 Employee Excellence Award.  Each month Lowell Five recognizes one employee who has demonstrated excellence in their commitment to Lowell Five customers and employees with the Make it Matter Award.  Ashley receives this award in recognition of her commitment to Lowell Five customers.
During her 15 year career at Lowell Five, and before accepting the position of Assistant Branch Manager of the Tewksbury location in 2015, Ashley held positions at many of the Bank's retail banking locations including, Chelmsford Center, Billerica, North Andover, Stadium Plaza.
A native of Lowell, MA, Ashley is a graduate of Greater Lowell Technical High School, where she participated in Lowell Five Bank's co-operative work program.  She continued her education at Middlesex Community College https://www.middlesex.mass.edu/ and earned an Associate Degree in Business Management.
For the past 12 years, Ashley has volunteered at the annual Massachusetts State DECA conferences, a business competition for high school students.
November 10, 2020