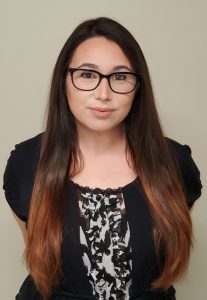 Tewksbury, MA – David E. Wallace, President and Chief Executive Officer of Lowell Five Bank, is pleased to announce that Ashley Pimentel, Senior Client Service Center Representative, has been selected to receive the Bank's August 2019 Employee Excellence Award.  Each month Lowell Five recognizes an individual employee who has a stand-out performance which inspires others by way of example with the Make it Matter Award.
Ashley's career with Lowell Five began eleven years ago as a student intern at the Bank's Greater Lowell Technical High School branch.  After graduation, she worked in many Lowell Five retail banking locations before joining the Client Service Center in 2012 as a Client Service Representative.  In 2018 Ashely was promoted to Senior Client Service Center Representative.
Born and raised in Lowell, MA, Ashley now lives in Nashua, NH.