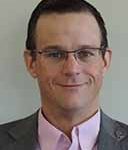 Tewksbury, MA – Each month, Lowell Five recognizes one employee who has demonstrated excellence in their commitment to Lowell Five customers and employees with the Make it Matter Award. David E. Wallace, President and Chief Executive Officer of Lowell Five Bank, is pleased to announce that Eric Fellows, Assistant Vice President, Security/BSA, was chosen to receive the Bank's March  2021 Employee Excellence Award.  He was recognized for his commitment to protecting the security of our customers.
Eric joined the Bank as a Teller in 1994.  Ten years later, he joined Security/BSA in 2004, where he currently holds the Security/BSA Officer position.
A graduate of Massachusetts College of Liberal Arts, Eric earned a Bachelor of Science in Business Administration and Business Management. He is a resident of Townsend, Massachusetts, where he serves as treasurer for the Townsend Fire-EMS Relief Association and serves on the Merrimack Valley Financial Abuse Specialist Team for Elder Services.
April 9, 2021