Peter Hingorani decided to get into the booming assisted living industry.  In preparation, he took the training and education courses necessary to open a facility.  Hingorani wanted to convert an existing retail/office space building he owned on Bridge Street in Dracut into an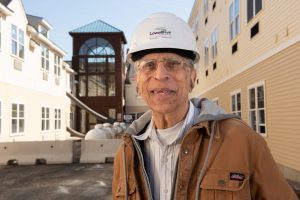 assisted living facility.   The local town manager encouraged him to consider a new banking relationship with Lowell Five, with whom the town had a long-standing relationship.
Peter contacted the local branch manager and commercial lending officer and found Lowell Five easy to work with and develop a construction lending package.  "They have been excellent to me.  They absolutely believed in me. "
A plus for Dracut
The result is a 160-room assisted living facility in Dracut, to be completed in June 2019. The facility will contain studio, one & two bedroom units for assisted living, independent living and memory care.  "It's going to be a job creator, probably in the area of 40 to 50 jobs, and I'm looking forward to it," Dracut Town Manager Jim Duggan told the Lowell Sun.
A better banking relationship
Previously with a large bank for over 40 years, Peter has found the relationship with Lowell Five much better.  Beyond the commercial construction loan, his companies have moved all of their other accounts over to Lowell Five.  He particularly commended the Cash Management Team for meeting all their needs.  "They are good people, and they provide excellent service for my business."
"Lowell Five has been excellent to me.  I give them an A+.  They treat me so well,  I'll stay forever."  Peter Hingorani